Writing Workshops 2019
Gay Monteverde
Writing for the Stage
Writing for the Stage is a beginning playwriting workshop for the eager amateur, the emerging professional or the curious writer exploring a new medium. No previous experience with playwriting is necessary (although it's good if you've seen some plays and read a few). We will read and discuss plot, character, dialogue, theme, spectacle and pace as we write and workshop scenes. Playwriting is great practice for novelists and short story writers who want practice working with dialogue.
Date & Time: 6:30 - 9:30 PM, Wednesdays, May 8 - June 12, 2019 [No workshop May 22]
Enrollment: Minimum 4; maximum 12
Place: Room 23, Multnomah Friends Meeting House, 4312 SE Stark, Portland OR
Cost: $240 [Five three-hour sessions.] Register at www.mountainwriters.org.


Gay Monteverde is the author of three plays: Harriet Tubman: An American Moses (a finalist for the American Alliance of Theater and Education's Best New Play Award) and The Arabian Nights (a finalist for the Oregon Book Award's Angus Bowmer Award for Drama) are published by Playscripts, Inc. in New York City and have had multiple productions in locations as far ranging as Australia and Kentucky. Gay's third play, a contemporary romantic comedy based on Pride and Prejudice and set in Portland, had its world premiere in the Berkshires in February. She has taught writing at Portland Community College and Mt. Hood Community College for many years.

________________________________________
Gina Ochsner
Fiction Writing Workshop: Creating Compelling Characters, Fueling Narrative Conflict, and Finding Your Voice
This five-week course will focus on both craft and process. In the first three sessions we will divide our time between idea generation/new material development and examinations of how elements like character, setting, imagery, scene and dialogue can not only shape but push stories (or novel chapters) forward. The last session will be primarily devoted to critiquing/providing commentary on the works generated by participants. This class is designed for writers of any experience level. My only assumption I will make about you, your work, or your writerly interests is that you are curious about writing and want to learn more.
Meets:

Thursdays, 6:00 - 8:30 PM, May 9 - June 6, 2019

Cost

: $210 (Five-week workshop)

Enrollment

: Minimum 4, Maximum 10.

Location

: Room 23, Multnomah Friends Meeting House, 4312 SE Stark, Portland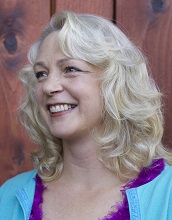 Gina Ochsner is the author of two novels: The Russian Dreambook of Colour and Flight (2009) and The Hidden Letters of Velta B (2016). She has also published two short story collections: The Necessary Grace to Fall, which received the Flannery O'Connor Award for Short Fiction; and People I Wanted To Be. Both collections were awarded the Oregon Book Award for Fiction. Her stories have appeared in The New Yorker, Tin House, Glimmertrain and the Kenyon Review. Ochsner has been awarded a John L. Simon Guggenheim grant and a grant from the National Endowment of Arts. Gina Ochsner lives in the mid-Willamette Valley of Oregon and teaches writing and literature at Corban University and with Seattle Pacific's Low Residency MFA program.
________________________________________
Lex Runciman
This poetry revision workshop assumes that to begin writing a poem is to initiate a unique process of curiosity and discovery, and that to complete a poem is to end that particular process. Thus, our workshop aim will be not to fix a draft or finish a poem – though those things could happen. Rather our aim will be to intuit and explore the draft's materials, to understand its intentions (first without the writer's comment), and to identify and experiment with possible fruitful revision. Our aim will be to deepen the writer's sense of possibility for that poem and become more aware of revision possibilities for other poems as well. Participants will distribute drafts to be discussed the following session. No beginners. No prompts.

Meets: Thursdays, 6:00 - 9:00 PM, May 9- June 13, 2019
Cost: $300 (Six three-hour sessions)
Enrollment: Minimum 4, Maximum 9.

Location: TBA
Lex Runciman holds a Ph.D. in English from the University of Utah and an M.F.A from the University of Montana, where he studied with Madeline DeFrees and Richard Hugo. He has authored six books of poems, including Salt Moons: Poems 1981-2016 from Salmon Poetry (Ireland) and The Admirations (Lynx House Press), which won the Oregon Book Award in 1989. Winner of the Silcox Prize and the Kenneth O. Hanson Award, his poems have been featured on Verse Daily and reprinted in several notable anthologies, including Alive at the Center (Ooligan Press, 2013) and From Here We Speak, the poetry volume of the landmark Oregon Literature Series published by Oregon State University Press in 1994. In a 25-year career at Linfield College, he won the Olds-Hellie Award for Creative Achievement in 2014 and was twice named the Edith Green Distinguished Professor. He lives now in Portland, Oregon.
________________________________________
________________________________________
Following a River: Writing & Conference with Gary Miranda
Freedom is not following a river.
Freedom is following a river
though, if you want to.
-- William Stafford
These tutoring sessions are intended to help serious poets improve their poems and writing skills through consultation and revision. While individual poems will receive careful attention and thorough feedback, the emphasis will be on finding the poet's overall strengths and weaknesses in an effort to maximize the former and minimize the latter. Gary Miranda likes to think of this in terms of a river: "Some poets need more current, others need more banks." "Banks," he notes, "are a lot easier to learn."
Students will submit their poems to Mr. Miranda in the week preceding their appointment. Hence, the fee includes tutor preparation to read and annotate the poems, and the individual conference session (an hour) to discuss and suggest directions. These one-on-one writing & conference sessions, by appointment, will be held Wednesdays at the TaborSpace Cafe. Request for other days/hours will be considered on an individual basis.
Meets: By appointment, Wednesdays between 10 AM and 4:30 PM
Cost: $385 for 4 individual sessions or $100 per session
Location: TaborSpace, 5441 SE Belmont, Portland 97215
Enrollment: Individual writing-and-conference sessions, by appointment.
Register securely online through Paypal at www.mountainwriters.org or send check payable Mountain Writers to 2804 SE 27th, #2, Portland, OR 97202.
Online registration: fill in amount on PayPal website, indicating in "Add special instructions . . . " your enrollment preference: instructor, number of sessions, etc.
Gary Miranda has taught writing and literature at various colleges and universities, including three years as a Fulbright Lecturer at the University of Athens in Greece and, as writer-in-residence at Reed College in Portland. His poems have been published in numerous magazines and journals, including The New Yorker, The Atlantic Monthly, Poetry, The American Poetry Review, and elsewhere, and widely anthologized. He has published four collections, one of which, Listeners at the Breathing Place, won the Princeton Contemporary Poetry competition and was nominated for a Pulitzer Prize. He has also published a translation of Rainer Maria Rilke's Duino Elegies. His awards include an NEA Fellowship, nine awards from the Poetry Society of America, and an invitation by The Atlantic Monthly to serve as poet-in-residence at the Robert Frost Place in New Hampshire. His poems have been taped for Harvard University's Lamont Poetry Collection and the Library of Congress Poetry Archive. He lives in Portland.
________________________________________