Writing Workshops 2017
J
ohn Brehm
Reading-as-a-Writer Course: The Poetry of Wislawa Szymborska
Tuesdays, 6:00 - 9:00 PM, August 22 to September 12

To read the work of the Polish poet and Nobel Laureate Wislawa Szymborska is to enter a miraculous world, a world where, as Billy Collins says, the poet's acrobatic imagination leads us "into the intriguing and untranslatable realms that lie just beyond the boundaries of speech." In this course we'll read and discuss Szymorska's poems firstly for the many pleasures they give and secondly for what they might teach us about our own writing. Our text will be MAP: Collected and Last Poems (translated by Stanislaw Baranczak and Clare Cavanagh). We'll spend the first three classes discussing Szymborska's work; the final class will be devoted to the poems participants write in response to or inspired by her work.

Meets: Tuesdays, 6:00 - 9:00 PM, August 22 - September 12
Cost: $200 (Four three-hour sessions)
Enrollment: Minimum 4, Maximum 12.
Location: Multnomah Friends Meeting House, 4312 SE Stark, Portland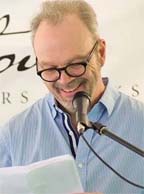 John Brehm is the author of two books of poetry: Sea of Faith, which won the 2004 Brittingham Prize, and Help Is on the Way, which won the 2012 Four Lakes Prize, both from the University of Wisconsin Press. Brehm has published a chapbook, The Way Water Moves, from Flume Press (2002) and was the associate editor for The Oxford Book of American Poetry (2006). His poems have appeared in Poetry, The Gettysburg Review, The Southern Review, Boulevard, Gulf Coast, The Missouri Review, New Ohio Review, The Best American Poetry 1999. He has taught at Cornell, Emerson College, and Portland State University and received fellowships from Oregon Literary Arts and Yaddo. He currently lives with his wife in Portland.
Register now!
_______________________________________________
_______________________________________________
Annie Lighthart
Neruda for Writers: A Poetry Workshop
Saturday,
10:00 AM - 1:00 PM,

September 23 , 2017




Come and explore the work and life of Pablo Neruda -- poet of the secret life of objects, poet of the people, poet who loved to write with green ink. In this workshop we'll read a range of Neruda poems and try a variety of exercises inspired by this poet who declared, "Poetry is an act of peace. Peace goes into the making of a poet as flour goes into the making of bread." Neruda also said that writing is like breathing. Together we'll take a deep breath and a close look at this generous and prolific poet.



Meets

: Saturday, 10:00 AM - 1:00 PM, September 23, 2017

Cost:

$95 (One four-hour Saturday session)

Enrollment

: Minimum 4; maximum 12
Location: Room 23, Multnomah Friends Meeting House, 4312 SE Stark, Portland
Annie Lighthart started writing poetry after her first visit to an Oregon old-growth forest. Since those first strange days, she published her poetry collection Iron String with Oregon's Airlie Press. Her poetry has been read by Garrison Keillor on The Writer's Almanac and chosen by Naomi Shihab Nye to be placed in Ireland's Galway University Hospitals as part of their Poems for Patience project. Annie has taught at Boston College, as a poet in the schools, and with students of all ages. She currently lives in a small green corner of Portland, Oregon.

_______________________________________________

Following a River
Writing & Conference with Gary Miranda
Freedom is not following a river.
Freedom is following a river
though, if you want to.
-- William Stafford
These tutoring sessions are intended to help serious poets improve their poems and writing skills through consultation and revision. While individual poems will receive careful attention and thorough feedback, the emphasis will be on finding the poet's overall strengths and weaknesses in an effort to maximize the former and minimize the latter. Gary Miranda likes to think of this in terms of a river: "Some poets need more current, others need more banks." "Banks," he notes, "are a lot easier to learn."
Students will submit their poems to Mr. Miranda in the week preceding their appointment. Hence, the fee includes tutor preparation to read and annotate the poems, and the individual conference session (an hour) to discuss and suggest directions. These one-on-one writing & conference sessions, by appointment, will be held Wednesdays at the TaborSpace Cafe. Request for other days/hours will be considered on an individual basis.
Meets: By appointment, Wednesdays between 10 AM and 4:30 PM
Cost: $385 for 4 individual sessions or $100 per session
Location: TaborSpace, 5441 SE Belmont, Portland 97215
Enrollment: Individual writing-and-conference sessions, by appointment.
Register securely online through Paypal at www.mountainwriters.org or send check payable Mountain Writers to 2804 SE 27th, #2, Portland, OR 97202.
Online registration: fill in amount on PayPal website, indicating in "Add special instructions . . . " your enrollment preference: instructor, number of sessions, etc.
Gary Miranda has taught writing and literature at various colleges and universities, including three years as a Fulbright Lecturer at the University of Athens in Greece and, as writer-in-residence at Reed College in Portland. His poems have been published in numerous magazines and journals, including The New Yorker, The Atlantic Monthly, Poetry, The American Poetry Review, and elsewhere, and widely anthologized. He has published four collections, one of which, Listeners at the Breathing Place, won the Princeton Contemporary Poetry competition and was nominated for a Pulitzer Prize. He has also published a translation of Rainer Maria Rilke's Duino Elegies. His awards include an NEA Fellowship, nine awards from the Poetry Society of America, and an invitation by The Atlantic Monthly to serve as poet-in-residence at the Robert Frost Place in New Hampshire. His poems have been taped for Harvard University's Lamont Poetry Collection and the Library of Congress Poetry Archive. He lives in Portland.